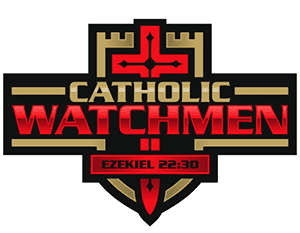 Are you a Catholic man, or perhaps even a spiritual-seeker not affiliated with a particular faith tradition, who feels a call to gather with other men to wrestle with life questions? If so, you are invited to join other men from the parish for an evening of fellowship, faith, and food.
The Watchmen typically meet on the 4th Tuesdays of each month from 6:30-8:30p.m. Members rotate leadership and choose topics each month. To R.S.V.P., simply fill out the online form below or contact Grace Koleczek.
2023-2024 Schedule:
September 26th, 2023: Into the Breach Series "Masculinity" and "Brotherhood"
October 23rd, 2023: Into the Breach Series "Leaders Aren't Born, They're Made" and "Why Men Need to Pray"
November 28th, 2023: Guest Speaker Fr. Matthew Malek, OFM Conv. on "How to Listen for and Hear the Holy Spirit"
no meeting in December
January 22nd, 2024: topic forthcoming
February 27th, 2024: Bays
March Date To Be Determined
April 23rd, 2024: topic forthcoming
May 28th, 2024: topic forthcoming
June 25th, 2024: topic forthcoming
Fill out the form below to R.S.V.P. for an upcoming gathering, and a member of Risen Savior Catholic Watchmen will contact you.