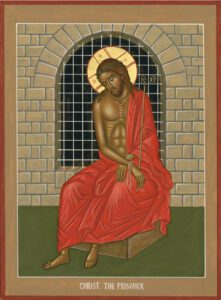 "I was naked and you clothed me, I was sick and you visited me, I was in prison and you came to me." Matthew 25:36
Risen Savior parishioners are grateful to be involved in the larger Twin Cities Prison Ministry, whose mission is to provide an active and meaningful Catholic presence to those affected by imprisonment.
There are many ways to get involved in Prison Ministry and share your gifts with those affected by incarceration. Click any of the boxes below to learn more about the different opportunities, and scroll to the bottom of the page to submit an interest form for volunteering! Don't see an opportunity that fits your gifts and schedule? Visit Twin Cities Prison Ministry for more opportunities happening throughout the Twin Cities.
Prison Ministry Interest Form